Say Goodbye to "Out-Of-Order" and Hello to GYMDOCTORYYC
GYMDOCTORYYC provides repair, maintenance and installation services for all fitness equipment in and around the Calgary for customers large and small.
We have knowledge in gym and fitness machinery and access to major suppliers for specialised parts.
We service a growing numbers of boxes and fitness centers around the Calgary as well as private clients.
Whatever your fitness equipment problem is, we can find a solution.
Repair - Service - Install
My name is Petr Konecny. I'm passionate about fitness at all its dimensions. I was raised in family where my father is certified electrician.
I have been fixing things all my life and have always been looking forward to find solutions on how to get things rolling again. So once I started with coaching in fitness industry I have seen a lot of issues with machines.
Then, I realized I could combine and merge my two passions – fixing things and fitness industry!
I started working as a fitness service technician for one of the biggiest fitness service provider company in Calgary.
After one year of experiences I decided to go my own way and here I'm introducing my company GYMDOCTORYYC! Based on honesty and proper service!
Where we helped to keep moving
Custom made cable
We did finish another cable job. If customer is happy, we are happy too!
Upholstery from GYMDOCTORYYC
This is how we do it at GYMDOCTORYYC. We do repair upholstery that has been cracked or ripped. Therefor, call us!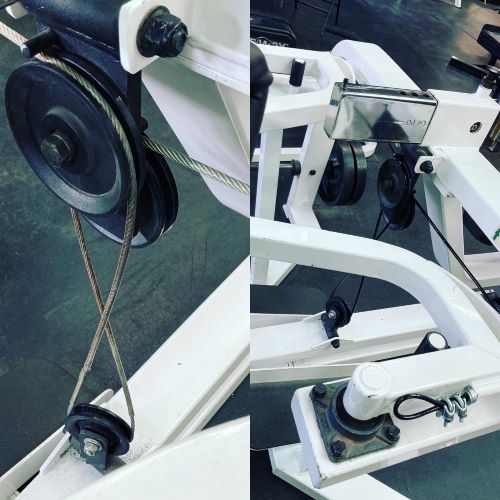 New Cables on-site manufactured and replaced
The left side of the picture is stripping cable causing rubbing and damaging the black pulley. Therefore, we did on the spot custom cable needed for the specific needs of our customer.
Upholstery job done!
Tearing apart or braking down any upholstery in your gym, such as bench, head supports pad or sitting pad? No problem, GYMDOCTORYYC will act fast and get quality job done!
Proper maintenance
Lack of maintenance leads to effect for instance drag factor in rowers and it has an impact on the performance of an athlete. Do not let improper maintenance be a decider to lose or win.
Tune-up for your equipment
We provide proper tune up. As well as full lubrication. Also, tightening loose bolts. In addition, we also do deep cleaning and safety check for each machine.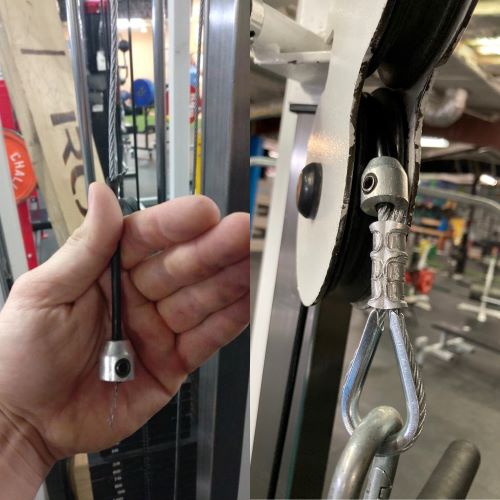 On-site cable manufacturing
Did cable just snapped on you or you can already see the stripping of the cable? We have a solution for you! 3/16 or 1/4 black nylon aircraft cables.
When there is a lack of maintenance
Preventative maintenance is key. You can see loose bearing balls from the back roller of this treadmill.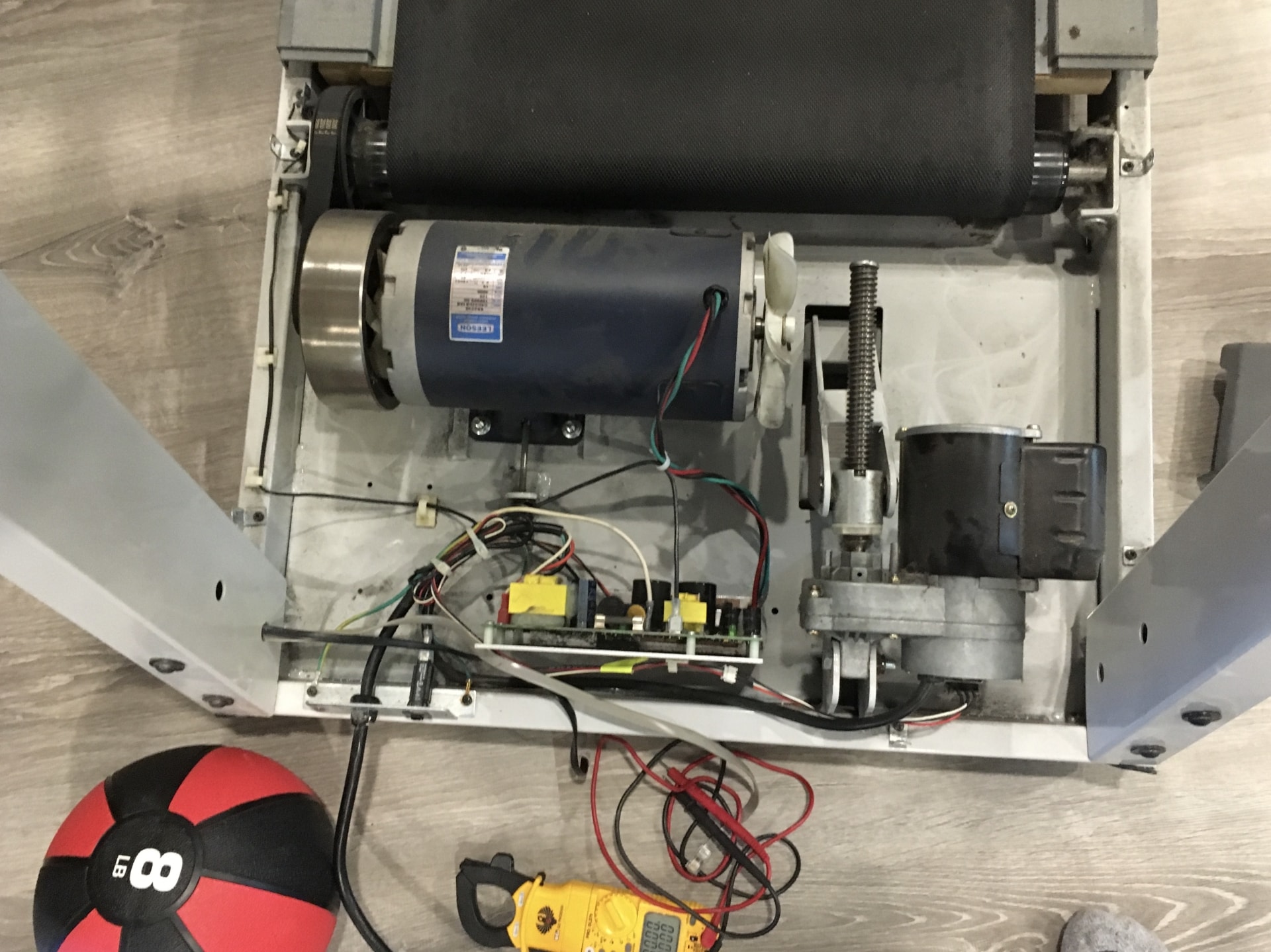 Lower board issue
One of the most often sudden electrical issues in your unit might be coming from your lower board. Let us diagnose the real cause of the issue.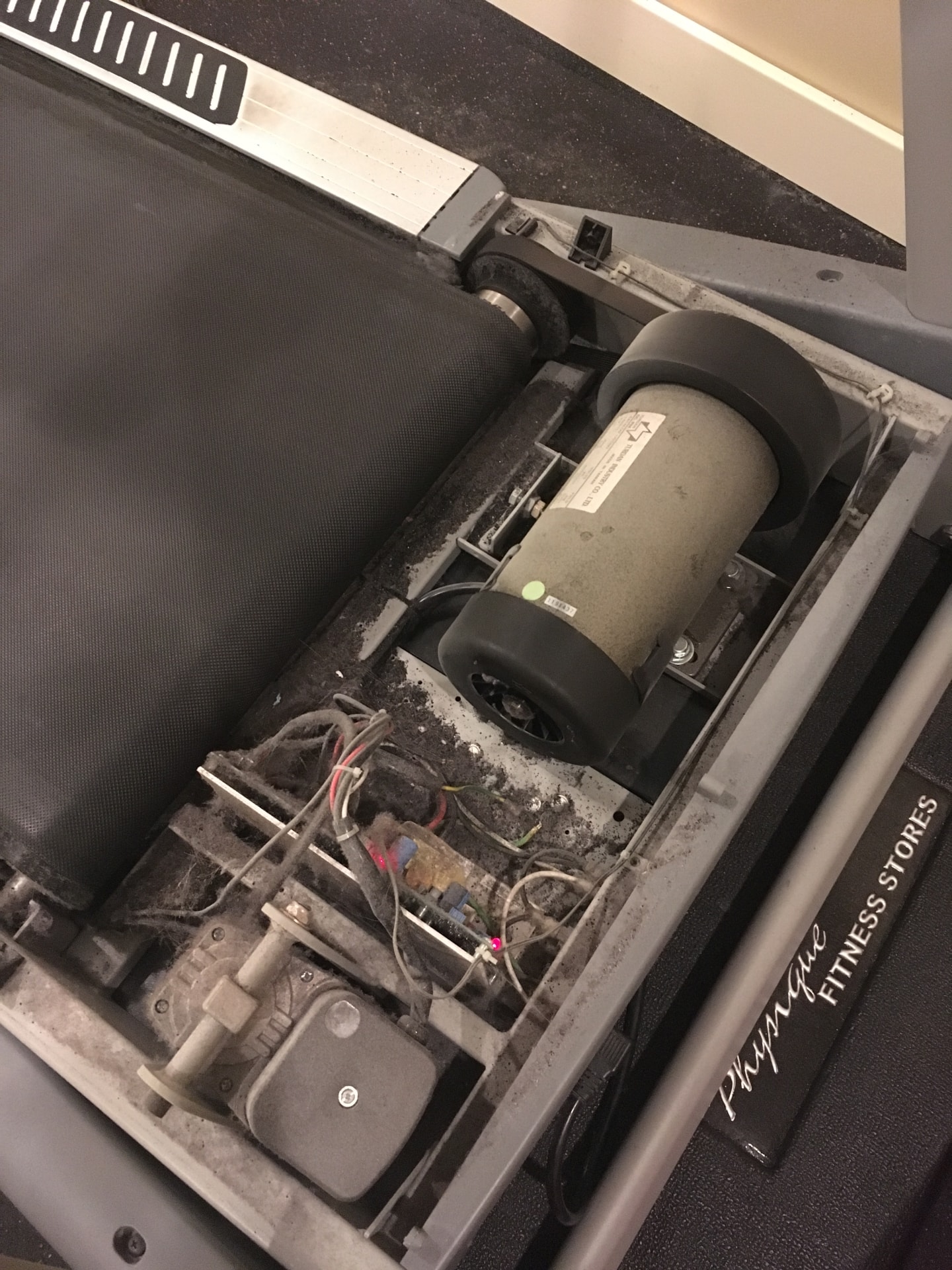 If you do not take care of your treadmill
When was the last time you cleaned your treadmill under the hood? The build-up of dust can cause not only an electrical issue in your unit.
GYMDOCTORYYC takes care of gyms for all types of customers including home gyms.
We will diagnose and repair most faults on-site.
Let's say you have some piece of equipment and it suddenly stops working. We will come by and do a diagnose check for you. We solve about 95 percent of problems on site.
If there is any part needed to be replaced I will give you price of this part and we can go from there. Some older units might have really pricey parts or they are not available anymore.
Does your treadmill start to make a weird noise, squaking or running belt seems to be out of alignment as well as it is slipping once you start your workout? We will come by and do full tune-up,
where we go through all maintenance on your unit, lube all parts (running belt and deck included) check whole unit and do proper alignment plus deep cleaning of the machine. Also, we check all settings on machine and run tests on a unit.
Custom Cable Manufacturing
Did your cross trainer cable machine just break down? Or do you spot any missing nylon coating or in worse case any stripping of the wire cable?
We can come in and make a custom cable for you with all other parts needed. Price may differ. It depends on a length and parts needed.
Are you interested in scheduling your studio or gym into proper maintenance calendar? We offer monthly, every 2 months, every quarter or semi-annual contracts.
Also, we can come up with tailored contracts covering your specific needs. We always do our highest standard of quality service which you can find in detail in Full Treadmill Service description. It basically covers everything from bottom to the top of the unit.
For gym owners or organizers of sport event competition
Do you want to make sure that your equipment is in top-notch condition? We do tune-up service to assure you there will be only physical limitation of competitors and not limitation of machinery you provide!
We can see very often lack of maintenance in weighlifting gyms where barbells are not properly spinning and cardio machines are in a bad condition which affects for instance drag factor in rowers and it has impact on performance of an athlete.
Here is focus on proper functioning of the unit as well as safety checking.
Contact us today for a quote regarding any of your fitness equipment repair, service or installation needs. Don't forget to mention the brand and serial number of the equipment …
GymdoctorYYC
Calgary, AB
Mon-Fri: 9am – 7pm
weekends: by appointment